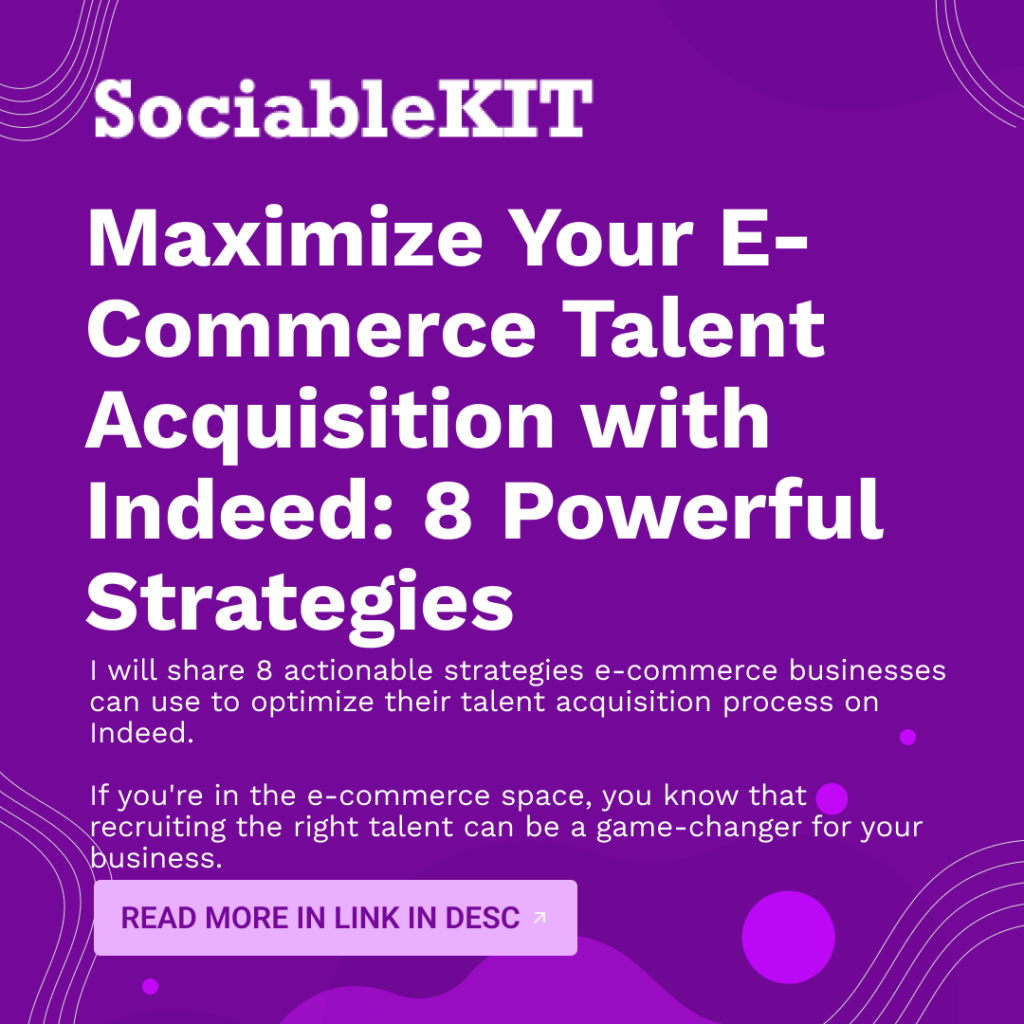 I will share 8 actionable strategies e-commerce businesses can use to optimize their talent acquisition process on Indeed.
If you're in the e-commerce space, you know that recruiting the right talent can be a game-changer for your business. With Indeed's evolving platform and tools, leveraging this platform effectively can give you a significant advantage in attracting top talent.
Many e-commerce businesses often struggle with leveraging online job platforms like Indeed. They might post a few job listings but fail to use all the features available on these platforms. In doing so, they miss valuable opportunities to find the right candidates for their company.
"Optimizing your talent acquisition strategy on Indeed is essential for e-commerce businesses looking to stay ahead in a competitive market."
I've seen firsthand how effective Indeed can be for talent acquisition. However, I've also noticed many companies struggle to use this platform to its full potential. Whether it's not using the right keywords or failing to engage with candidates, these missed opportunities can be costly. This is why I've created this list of strategies to help you maximize your talent acquisition on Indeed.
These 8 strategies are your keys to unlocking the full potential of Indeed for your e-commerce business.
Create a Compelling Company Profile
Make your company stand out on Indeed by creating a compelling company profile. Highlight your company's unique selling points, values, and culture. Use high-quality images and videos to give potential candidates a glimpse into your work environment.
A small e-commerce startup named T-Shirt Galore started posting job listings on Indeed. However, they weren't getting much traction. After a consultation, they revamped their Indeed company profile with professional images, behind-the-scenes videos, and detailed descriptions of their company culture.
As a result, they saw a 300% increase in applications from qualified candidates who resonated with their brand.
Write Clear and Engaging Job Descriptions
Craft job descriptions that communicate the responsibilities and requirements of the position. Use engaging language and highlight the benefits of joining your company. Remember, your job descriptions are often the first impression potential candidates have of your company.
An e-commerce company specializing in natural skincare products struggled to attract candidates for their Digital Marketing Specialist position. They had a very technical and bland job description.
Upon rewriting the job description with clear and engaging language and highlighting the benefits of joining the company, they received twice as many applications. They managed to hire a perfect fit within two weeks.
Add the Indeed Feed to Your Website
One of the best ways to increase the visibility of your job openings is by adding the Indeed feed to your website. Tools like SociableKIT make integrating your Indeed feed with your website easily. This will allow visitors to your site to see your current job openings and apply directly.
Julia's online jewelry store was looking for a new designer. They posted their job listing on Indeed and added the Indeed feed to their website using SociableKIT.
By doing this, they attracted candidates who were skilled designers and fans of Julia's jewelry. This helped them find a candidate who understood the brand's aesthetic and could contribute to its success.
Use Targeted Keywords
Ensure the right people see your job listings using targeted keywords in your job descriptions. Research what keywords potential candidates use in their job searches and include them in your listings.
Mike's online tech store was hiring a Customer Support Representative. They posted a job listing on Indeed, but only received a few applications.
Upon consultation, they discovered that their job listing lacked targeted keywords. After adding keywords like "tech support," "customer service," and "online store," they saw a 400% increase in relevant applications and quickly filled the position.
Engage with Candidates
After posting a job, don't just wait for applications to come in. Actively engage with candidates by responding to questions and providing additional information about the position. This will show candidates you value their interests and help build a positive impression of your company.
Lisa's online bakery needed a Marketing Manager. After posting the job on Indeed, Lisa engaged with every candidate who showed interest.
She responded to questions, provided additional information, and even initiated conversations with promising candidates. This active engagement led to a more streamlined interview process and a successful hire who felt valued initially.
Leverage Indeed's Advanced Search Features
Indeed offers advanced search features that allow you to filter candidates based on specific criteria. Use these features to narrow down your candidate pool and identify those who are a good fit for your company.
An online bookstore was looking for a Graphic Designer with experience in the book industry. They used Indeed's advanced search features to filter candidates by industry experience, skills, and location.
By narrowing down their search, they could identify a handful of ideal candidates and hire a Graphic Designer who significantly improved their promotional materials.
Promote Your Listings
Boost the visibility of your job listings by promoting them on Indeed. This will ensure more potential candidates see your listings and increase the chances of finding the right fit for your company.
Alex's online sports store urgently needed a Social Media Manager. After posting the job listing on Indeed, they decided to promote it.
This increased the visibility of their listing, leading to a flood of qualified candidates. Within a week, they hired an exceptional Social Media Manager who helped boost their online presence and sales.
Analyze and Adapt
After you've hired new talent, analyze the effectiveness of your recruitment strategy on Indeed. Look at the number of applications, the quality of candidates, and the time it took to fill the position. Use this information to adapt your strategy and improve your future recruitment efforts.
An online electronics store used Indeed for recruitment but found the process time-consuming. After analyzing their recruitment strategy, they identified areas for improvement and made necessary changes.
By optimizing their job descriptions, engaging with candidates, and leveraging Indeed's features, they reduced their time-to-hire by 50% and made their recruitment process more efficient.
"To maximize your talent acquisition on Indeed, it's essential to create a compelling company profile, write clear and engaging job descriptions, and actively engage with candidates."
Adding the Indeed feed to your website, using targeted keywords, and leveraging Indeed's advanced search features will further enhance your recruitment efforts. Don't forget to analyze and adapt your strategy based on your recruitment results.
365 Days of Social Media Content Ideas: Your Complete Guide to Engaging Posts
This comprehensive resource is filled with engaging and interactive post ideas to keep your social media feeds vibrant all year round.
No more stress about what to post next or how to engage your followers – we've got you covered!
Start your journey towards an enhanced online presence today! Please enter your name and email below, and this invaluable tool will be on its way to your inbox.